Table of contents
Hey folks 👋
One of a creator's biggest challenges is outsourcing part of their creative process. Whether it's writing, designing or editing, over and again we see creators struggle with hiring people who can help take their business to the next level.
So this week we're talking about the first hire and why it could make all the difference for our dream of creating a sustainable and scalable business.
Coming Up...
In the next five minutes, we're going to cover:
Why you should start outsourcing even if you have reservations.
Fantastic freelancers and where to find them.
What things you should outsource.
---
🚧 Dealing With Common Roadblocks
At Creatorpreneur we believe firmly in the power of outsourcing. It frees up time, it can help us leverage our best skills and we can stop doing things we're not good at and don't like. So why do so many creators struggle to do it?
Here are 5 of the most common roadblocks:
💰 1. "I can't afford it"
This is the most common reason people don't outsource. There's a misconception amongst creators that we need to be rich to begin hiring. Obviously, we need to have spare cash that we don't need for food and rent, but it's less than you might think.
When outsourcing work we're just saying 'doing this work is not worth my time.' When we order a takeaway instead of cooking, all we're saying is 'cooking isn't worth my time.'
More often than not, it comes down to our mindset rather than actual cash. Even if we've only got £100 to spare every month, investing it can free up time to leverage our own talents more, which will hopefully generate more money down the line.
⏱️ 2. "It's not the right time to outsource"
The next most popular reason is because creators think they're still handling the workload and don't want to hire someone unless they desperately need to.
The problem is that we're not using our time and skills in the best way. Even if we can handle everything we're doing now, we're growing slower than we could be if we outsourced the things we're not good at and freed up time to lean into our strengths.
A question to ask yourself to get around this is "what's the dollar value of my time?" If there's any work that we don't really enjoy or aren't good at, and it can be outsourced for less than our dollar value, then we should consider paying for it.
🧑‍🎨 3. "Their style will be different"
We're never going to hire someone who knows exactly what we want from the start, so it's inevitable that their style is going to be different in some way.
As long as we've found someone with the required skillset, who communicates well and you've set clear expectations of the role then you should be fine. Over time, through consistent feedback, you can refine their work so it's as close to what you want as possible.
👎 4. "The quality of their work will be worse than mine"
This is related to the last point that we'll never know exactly how good someone is before they start doing some work for us.
But, there's lots of things we can do to make sure we're hiring someone we want. One of the best ways to do this is to get freelancers to do a trial task before we hire them. For example, if you're looking for a video editor, you can send some footage to a few people and see what they produce. We recommend paying for this as well as it will make them take it more seriously (as well being a fair thing to do).
😤 5. "Managing someone is difficult and time-consuming"
Most creators think that managing an 'employee' will be difficult, but managing someone is only difficult and time-consuming if we make it that way. We're not talking about managing a full-time employee, we're talking about someone doing several hours a week.
If you've set clear expectations, trust their ability, and work with them closely (especially at the start) by offering constructive feedback, then outsourcing can work really well and we won't spend our time 'managing' someone.
Ultimately, as creators we want to make things that we really love, and we know it's possible to find people to work with who understand that. So, don't stress. Hiring is nowhere near as scary as it may sound!
🤷‍♀️ Where to Find People
So now we've decided that outsourcing is the next step for our business, how do we do find the right person?
There are lots of ways to find great freelancers who can do the things that you want. You can try your personal networks and social medias, or reaching out to any other creators that you know, but these often don't bear much fruit. From experience, the best way to find a freelancer is to use an online marketplace like Fiverr.
On Fiverr, individuals sell their services either on an ongoing basis or for a one-off. You can post a description of what you need (and we will go through examples of how to do this in future) and people who are able to help you will apply for the role. You'll get a range of applications and it's about filtering through them to find a few who look good and communicate well. You can then set them all trial task to see the quality of their work and then choose the best one. It should be relatively obvious.
It's really easy to overthink outsourcing, but websites like Fiverr have made it a lot easier and if you're willing to go through a few hours of slightly tedious tasks like reviewing applications, then you can find amazing people. Creators regularly say that finding the right person for their writing, editing, admin etc is like a breath of fresh air, freeing them up to do more of the things they love and that'll help the business. 👇
📈 Making a High Leverage First Hire
Right, hopefully we're sold on outsourcing and we know where to find freelancers, but what should we actually get people to do for us? How do we know which task to outsource?
One way to figure this out is to use the 'Delegate and Elevate' matrix. It looks like this: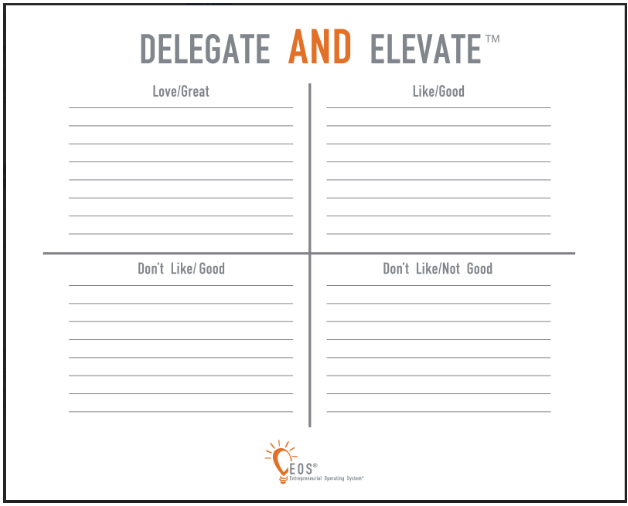 The idea is that we should break down the roles we could outsource, based on the things we're not particularly good at or don't like doing. So, if we've got a list of roles in the bottom two categories ("don't like/good at" or "don't like/not good at") then those are probably good roles to begin hiring for.
For lots of creators, an obvious choice for first hire might be an editor or a personal assistant, based on our needs.
If you're a content creator, hiring an editor is a super high leverage task to outsource (unless you love and are really good at editing). It's by far the biggest time sink when it comes to making videos and getting some who is quicker and better than you to do it can be game changing.
We don't have to hire them permanently, or for every video. We could choose to outsource one video per month or something, and see how much time this frees up, probably in the range of 3-4 hours. One way to decide what to outsource is figure out how much money you can set aside each month and see what that can buy you.
It's also not always as expensive as you'd think. Some editors will edit your TikToks for around $5 per piece.
The other commonly sought after role is a personal assistant, which might sound a bit extravagant, but it can be another very high leverage task to outsource for any Creatorpreneur.
Think in second order effects - how many times a day do you freak out about needing to reply to emails, sort endless admin or schedule stuff to post on your socials, so you end up distracting yourself from the main projects and ticking those off. This article says that it takes an average of 23 mins and 15 seconds to refocus, so even though you might sort of be able to multitask, you're losing time every time you switch focus.
But what if we had someone else doing it on our behalf? Not only do we reduce time lost in switching focus, but we also free up the time we'd have to spend doing it overall, so we can focus on high leverage tasks which utilise our best skills (writing, filming, brainstorming, thinking, or even just relaxing 😎).
🤔 What's next?
To summarise, these are the key things you need to do to get to your first hire.
1. Identify the reasons why you're not outsourcing. Which of these five resonates with you?
Not enough money
Not the right time
Worried about their style
Worried about their quality
Worried about managing someone
Once you've identified the reasons, try to write out answers on why you feel that way and how you might be able to work through that fear. For example, if it's money, you can ask yourself "can I find £100 per month to give to outsourcing? If so, where from and how might it affect my life?"
2. Fill out the Delegate and Elevate matrix and identify which things you'd like to outsource
3. Create a job description, explaining the role and requirements, and post it onto Fiverr or other similar freelancer websites and ask applicants who look good and communicate easily to perform a trial task. We will be going over this specific element of the process in future issues of the Creatorpeneur newsletter so stay tuned for that, but it's pretty self explanatory. Just ask them to do an example piece of work on whatever it is you're trying to outsource.
4. Finally, choose your freelancer 🔥
That's it for now.
Have a great rest of your week,
George
Man at Typewriter
Creatorpreneur
---
🐦 Creatorpreneur Twitter
We turn all our newsletters into tweet threads, so if you found this useful it'd be fab if you could show the thread some love ❤️ It really helps us reach new people :)
We tweet every day about Creatorpreneurs and the creator economy, and we'd love to keep the conversation going over there with fine folks such as yourself.
🚀 Part-Time Creatorpreneur
Our new course, 'Part-Time Creatorpreneur' is available now!
This self-paced course, presented by Ali Abdaal, distils all the lessons learned in his journey from casual YouTuber to 'professional' Creatorpreneur.  After three years, dozens of business books, and tens of thousands spent on business coaches, Ali turned his creative hobby into a business which turned over nearly $5 million last year.
'Part-Time Creatorpreneur' gives you the principles, tools and resources to scale up your creative side hustle in the same way.
We'll always offer tonnes of free content here, but for anyone who's super serious about taking their creativity to the next level, scaling up efficiently without burning out, and driving revenue, this course will be incredibly valuable.