Life Advice from the Richest Guy I've Ever Met
---
Hey friends,
This week I was in Austin, Texas, thanks to the guys at Kajabi who very kindly invited me to their conference as a keynote speaker. It was genuinely a lot of fun and I met a bunch of inspiring people too.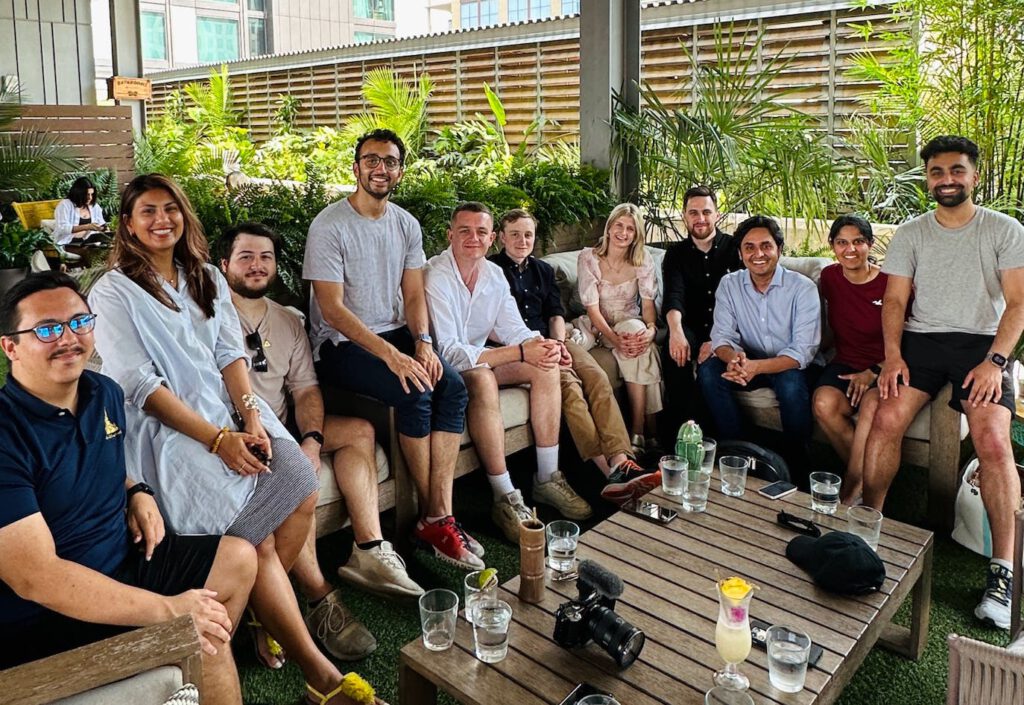 I've also really enjoyed having breakfasts, lunches, and dinners with various internet friends and meeting them all for the first time in real life. These conversations are always super energising for me and I leave with a bunch of new ideas about how to approach my life and business.
One of the conversations that stood out was with a guy called Bill Perkins.
Bill is an accomplished hedge fund manager and film producer, but he's perhaps best known as the author of 'Die With Zero' – a brilliant book that encourages us to spend our money and resources on maximising life experiences and enjoyment. I read the book last year and reviewed it on my YouTube channel too, and it completely changed the way I thought about spending my money.
Bill very kindly invited me to his house (thanks to a connection made by Chris Williamson) and we spent the afternoon wakesurfing on the Colorado river. It was a great experience and incredibly generous of him to spend some of his time hanging out with me.
So, I thought I'd share some of the life lessons I took away from spending some time with Bill. In particular, there are 3 interesting takeaways that anyone can apply to their life:
1 – Invest in your health 🏃
Investing in your health is one of the highest ROI things you can do with your money.
By spending money to improve your health, you literally live longer, which is obviously good. But it also means that as you get older, you're able to continue to enjoy life because you've got the body and the energy to do interesting things without getting overly tired.
So, investing in a personal trainer, healthy food, and a gym membership is always a good idea because it helps us to enjoy life way more and for longer.
2 – Get a relationship coach ❤️
Getting a relationship coach is also well worth investing in.
If we want to improve our tennis, we get a tennis coach. If we want to improve at playing the guitar, we get a guitar teacher. But nobody ever thinks about getting a relationship coach, when our relationships are probably the single most important area of our lives.
So, Bill says that getting a relationship coach or couples therapist is absolutely life-changing if you want to have longer, happier, and healthier relationships with your loved ones.
In fact, I'm now going to start sessions with a relationship coach following Bill's recommendation 😜
3 – Celebrate more wins 🥳
The older you get, the more you realise that life is full of tragedy. This makes it very easy to just go through life without celebrating things.
So, Bill makes the point to find an excuse to celebrate every win. And that just further adds to your overall enjoyment of life.
I particularly liked this piece of advice because I don't think I celebrate wins enough, so I'm going to actively work on this over the coming months.
---
I love how Bill fully embraces the philosophy from his book, Die With Zero, that you should use money as a tool to enjoy life and create experiences. And this has had a profound impact on the way I think about spending my money too.
So, what's something that you spend money on that you feel has positively contributed to your life happiness and fulfilment? I'd love to hear your responses so hit reply if anything comes to mind.
Have a great week!
Ali xx
P.S. It's your last chance to join The Peak Performance Program. My CEO coach, Eric, created this program to help you reach your full potential in work and life. I'll be featuring in a couple of the sessions to answer your questions, too. Enrolment closes midnight UK time, Tuesday, 6th June so be sure to check it out 🙌
☕️ A newsletter I genuinely read every day
The one newsletter I actually look forward to reading every day is Morning Brew.
It's a super informative and entertaining daily newsletter that covers the most important stories in business, technology, finance, and world news. Plus, it only takes five minutes to read and get an overview of all the things that I'm interested in.
If you're interested in subscribing, it's completely free and very accessible, with stories delivered to your inbox first thing in the morning.
Subscribe for free using this link 🙂
Thanks to Morning Brew for sponsoring this issue of Sunday Snippets 🙏
♥️ My Favourite Things
📚 Book – No More Mr Nice Guy. I've been re-reading this book, which admittedly sounds like it'll be full of 'red pill bro science' but it's actually very good. It's a book aimed at dudes who want to overcome their passive, pleasing behaviours and help them set boundaries. I first read the book about 10 years ago and when I revisit it every couple of years I always find something new in there. I still struggle with expressing my own needs in relationships and setting boundaries with friends / family because I'm fundamentally a people pleaser and want everyone to like me. But, in life that isn't really a good thing. So, I've been working through the practical exercises in the book and it's been quite eye opening. If you're a guy who struggles with this stuff, I'd recommend checking it out.
📝 Article – Your Boundaries Set You Free. On the note of setting boundaries, this an article I came across that really resonated with me. I highlighted quite a lot of it as it's been very helpful when it comes to setting boundaries in all the important relationships in my life. In particular, my romantic relationship and family relationships, which are the two most common areas that people struggle with – including me – when it comes to setting boundaries.
Daring to set boundaries is about having the courage to love ourselves, even when we risk disappointing others.
📝 Article – Reasons not to Become Famous. I've also been re-reading this article from Tim Ferriss, which is always very eye opening. Thankfully, I haven't yet had many of the experiences he talks about when it comes to the risk of fame, but as I'm getting older and consider starting a family I'm becoming far more aware of the downsides of fame and the security precautions that famous people need to take. Some creator friends of mine have had scary things happen to them, so this is an area I need to take seriously.
🌎 Place – Austin. I've spent the last 7 days in Austin. The weather is incredible, it's a real hub for creators, and the overall vibe is great. I'm now strongly considering what it would be like to spend an extended period of time here at some point in the near future (maybe 2-3 months). So, if anyone's not visited Austin, Texas, I'd 100% recommend. It's definitely one of the nicest cities that I've ever been to.
✍️ Quote of the Week
"Let me repeat once more that great quote by Don Juan in Carlos Castaneda's A Separate Peace: "The difference between a warrior and an ordinary man is that a warrior sees everything as a challenge, while an ordinary man sees everything as either a blessing or a curse."